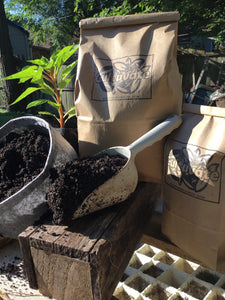 Half Yard Dirt Compost - Compare to 18 1.5 Cubic Foot Soil Bags - Indianapolis and surrounding area delivery  - 
Dirt Rich Potting Soil is made to Cultuvate Living Soil

Grow brighter blooms, juicier fruits, sweeter greens, fragrant flowers and herbs so herbaceous

 -  its a little bit trippy :)

Full of beneficial plant microbes and bacteria
Fantastic aeration for roots
Increases nutrient and water holding capacity 
Ready for your favorite living soil amendments
Free from peat, vermiculite, perlite and chemical fertilizers
Great for ground or pot gardening  
Shipped to your door in a ready to plant Root Pouch
The perfect soil for Cultuvating living soil - year after year 
The ideal combination of Dirt Rich Compost and Pittmoss makes this soil superior for soil life and is 100% made from "waste"  
Dirt Rich compost is made to Cultuvate by composting master of over 47 years John Haas.  Psychedelic Compost is made from 100% leaf compost giving your soil millions of microbes per tablespoon
Why is it Dirt Rich Compost?
Because - Each spoonful of Dirt Rich Compost has millions of microbes working together with your plants to grow brighter blooms, juicier fruits, sweeter greens, fragrant flowers and herbaceous herbs -  its a little bit trippy :)
What is Pitmoss?
Pittmoss is is made from PittMoss's proprietary and revolutionary recycled paper fiber. PittMoss engineers this fiber to have incredible properties that allows plants to grow big and strong, even under stressful conditions. This revolutionary product is the most sustainable and high-performing growing media on the market made 100% in the United Sates. 
Together Dirt Rich Compost and Pittmoss make the idea house to home your living soil - while reducing waste to landfills, ditching unstainable peat harvesting, and sequestering carbon in your garden
-Shipping and Delivery-
This is a living breathing soil and is shipped accordingly, straight from our doors to yours. 
Delivery in Indianapolis is free - Shipping to the other 48 states is market rate
There are just 75 3 Gallon Bags (approx 12 quarts) available to start shipping on April 16th
There are just 50 10 Gallon Bags (approx 1.3 cubic feet) available to start shipping on April 16th
There are just 25 30 Gallon Bags (aprox to 4.01 cubic feet) available to start shipping on April 16th
BULK ORDERS, WHOLESALE, and SAMPLES can be arranged - just email or call:)
Grow, eat, compost, repeat